San Diego Privacy Fence (Vertical Board Fence)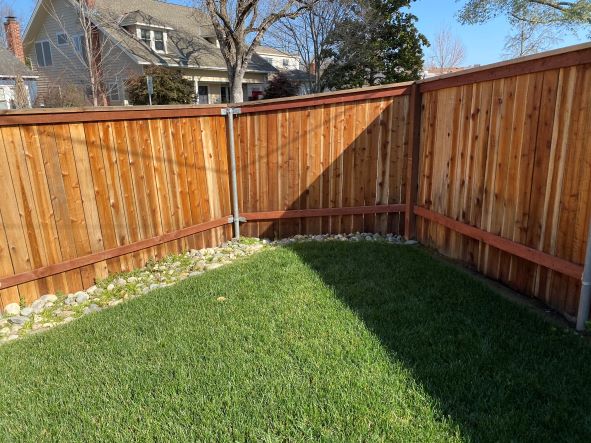 If you live in San Diego County and need a privacy fence built or repaired, give San Diego Wood Fence Company a call.
We can help you with any size or design of wood privacy fence you have in mind. We offer both vertical board fencing and lattice top fencing to give you the privacy you crave.
Our fences are all built out of cedar, pine, redwood, or other kinds of wood (your choice). You'll get decades of quality service from every project we build.
Give us a call at 619-304-9682 to get free estimates.
Make Your Property Secure and Cozy
Adding a privacy fence not only boosts your home's security from the street, it also creates a cozy and intimate space for you and your family to relax in.
When you choose San Diego Wood Fence Company as your contractor, you're choosing a team that takes pride in its workmanship and customer service. We'll make sure you're happy with the final product, and we'll be there to help with any maintenance or repairs down the road.
Why Choose A Privacy Fence?
A privacy fence from San Diego Wood Fence Company is great for the enclosure of:
Swimming pools

Backyards/front lawns

Patios and decks

Gardens
Nor does it need to make your property look like a prison. A well-designed and well-built privacy fence can actually enhance the look of your home, adding value and curb appeal.
San Diego Wood Fence Company is highly skilled in creating aesthetic designs for any sized privacy fence.
The Privacy Fence–Not Just For Introverts
While a privacy fence does give the homeowner a sense of privacy, it should not be mistaken for an introvert's paradise. A privacy fence can provide the perfect setting for outdoor activities and gatherings with family and friends.
No more worries about prying eyes or accidental glances from the street–with a San Diego Wood Fence Company privacy fence, you can fully enjoy your outdoor space in peace and security.
How High Should A Privacy Fence Be?
The height of a privacy fence is typically based on the needs of the homeowner. However, as a general rule, we recommend that a privacy fence be at least six feet high. This will provide adequate security and privacy for most homeowners.
If you have specific concerns or needs that require a higher fence, we can certainly accommodate you. We have extensive experience in designing and building custom privacy fences to meet the needs of our clients.
A Privacy Fence You'll Love
Contact San Diego Wood Fence Company today for a free consultation on your privacy fence needs. We'll work with you to design a fence that meets your specific requirements and enhances the look of your home.
The team at San Diego Wood Fence Company takes pride in every fence we build. We want our clients to be happy with the final product, and we're always available for maintenance or repairs down the road.
We'll also give you tips for taking care of your fence, so you can enjoy it for years to come.
Rest assured that for whatever reason you may need a privacy fence in San Diego, CA, we'll make certain that it's a fence you'll love. Get started today with just one phone call to San Diego Wood Fence Company, at 619-304-9682.